Auto Accident Chiropractic in Reading
The impact of a car crash can have serious negative effects on one's skeletal structure and long-term health. At Christel Chiropractic, Dr. Christel has the expertise to combat the damage of an automobile accident with intelligent care that relieves pain and gets you back to optimal health.
NEW PATIENTS

Reversing the Impact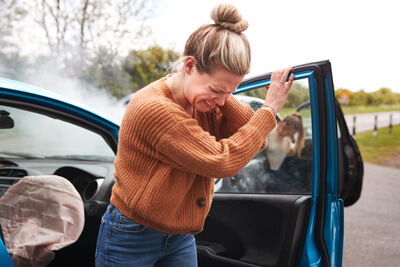 The whiplash that occurs when two automobiles collide can throw your entire body out of whack. Your spine may need to get stretched and straightened so that the alignment and natural curve is correctly set and no degenerative back problems advance.
Even if you do not feel significant pain, it is still a good idea to get examined to ensure that several years down the road, an undetected injury is not causing long-term issues. Protracted pain, chronic headaches, and difficulty sleeping are all symptoms that you could deal with if automobile accident injuries are not cared for in the aftermath.
Instead, Dr. Christel offers chiropractic care using a variety of techniques that reset your body and solve both shooting pain and simple neck or back pain.
The Typical Timeline of Care
Usually, it takes 8-12 weeks of care for you to return to your pre-injury state. Recovery can take more or less time depending on the person, however.
Typically, you will have X-rays taken (we can refer you out to a facility that is within a mile of our office) and then an MRI if it is deemed necessary three or four weeks after beginning care. (The delay in taking an MRI is due to typical insurance coverage.)
Get Started With a Free Consultation
Dr. Christel has been practicing as a chiropractor for over three decades and has many years of experience helping people overcome the pain from an automobile accident.
Contact us now for a free consultation or to set up an appointment to visit our well-located Reading office. Please note that once you file a claim with your automobile insurance company, our front desk can help you with all the necessary paperwork.
CONTACT US

Auto Accident Chiropractic Reading, Shillington PA | (610) 796-0792